Upgrade to Favoriot Developer Plan: The Ultimate Solution for Serious Developers
Are you a serious developer who wants to take your IoT and data analytics skills to the next level? Then the Favoriot Developer Plan is the perfect solution for you. Here's why:
Unlimited Device Support and Advanced Analytics
With the Favoriot Developer Plan, you'll enjoy unlimited device support, up to 100,000 APIs per day, and advanced features such as multi-device on a single graph and the ability to annotate graphs. With HTTP POST and RPC, you can easily send data to a remote server and control your devices manually or automatically.
Unlimited Analytics Dashboard and Data Retention
The Favoriot Developer Plan also provides an unlimited analytics dashboard and the ability to create end-customers with designated access. You can analyze your data more deeply than ever before and share it with others. Plus, with data retention for up to one year and best-effort email support, your data is always safe and accessible.
Bonus: Favoriot Developer Bundle and Free IoT for Business Professionals Training
But that's not all. With the Developer Bundle, which includes an IoT kit, you'll have everything you need to start immediately. And as a bonus, when you subscribe to the 1-year developer plan, you'll receive the 1-day IoT for Business Professionals training for free! Led by Dr. Mazlan Abbas, CEO of FAVORIOT and renowned IoT expert, this course provides a comprehensive understanding of IoT and its impact on businesses.
Unlock the Potential of IoT for Your Organization
Upgrade to the Favoriot Developer Plan and get the 1-day IoT for Business Professionals course for free to unlock the potential of IoT for your organization. With the plan's advanced features, unlimited device support, and valuable insights from data analytics, you can drive business growth and stay ahead of the competition. Don't wait; get started today!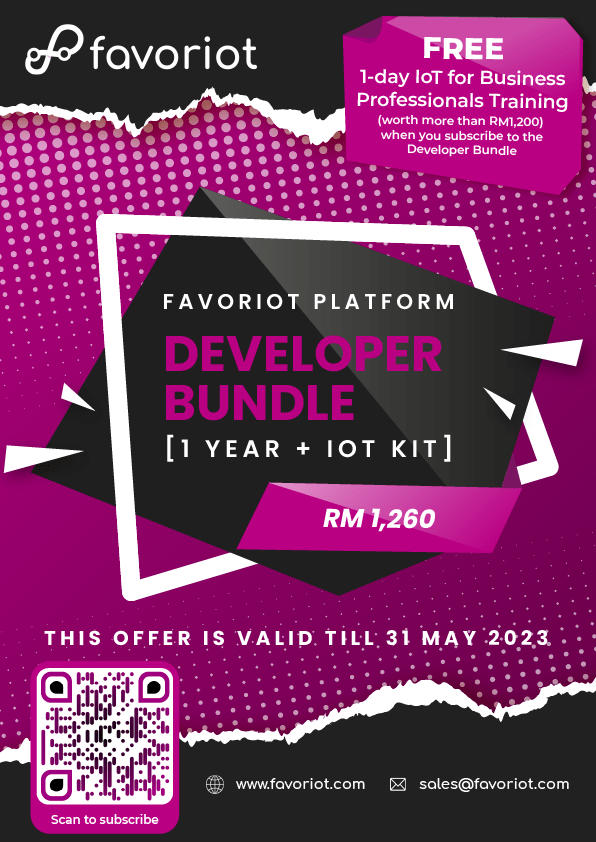 Subscribe to Favoriot Developer Plan Bundle