Let's take a look at how we can solve the problem of river pollution and improve the quality of the river.
Background & Impact of River Pollution
Malaysia has 120 rivers which are sources of water supply, and 43 were located in Selangor
Sungai Selangor provided water to 60 per cent of residents in the Klang Valley. Water treatment plant at Sungai Selangor cost about RM900 million
Nearly 40% of rivers in Selangor are known as dead rivers. Klang and Gombak rivers are among the most polluted water systems in Malaysia.
64 cases of river contamination occurred in the past five years, with 15 in the last year alone
In Selangor alone, the amount of solid waste could rise to 6,000 tons by 2017. More than 19 percent of waste end up in the drains, which then causes flash floods and other health problems.
Consumers will face an increase in water tariffs if the current pollution of rivers in the city continues to worsen
Problem Statement
What are the pollutants in the river?
What is the pollution level?
When is the highest pollution detected?
Where is the location of contaminants?
Who is contributing to the rise in pollution?
How to control the pollution level?
How much is the pollution level?
Why is the pollution rising at a particular time?
Why is the pollution rising at certain locations?
How-To
Chemical sensors
Water level sensors
Network infrastructure (Wifi, 3G)
Visualization Dashboard
Analytics
Crowd-sourced violation information (mobile device)
GPS input
Hydro morphology e.g. depth, width, flow
Water temperature sensor
In-situ (manual sampling)
Weather sensors
Interesting Articles
This is by no means a comprehensive step-by-step solution but it will help you to start your exciting journey in developing your own IoT solution. Feel free to add your suggestions.
FAVORIOT offered a very affordable pricing plan as shown below:
The Beginner Plan is very suitable for University students who have been assigned or chose IoT project as their Final Year Project. A single device such as Raspberry Pi or Arduino that collects from several connected sensors can stream to the IoT platform. A simple dashboard is provided to visualize the measurements. This plan is also suitable for an individual developer or hobbyist that would like to familiarize with IoT platform, conduct self-learning or participate in IoT Hackathons. At RM 8.33 (or less than USD 2.00) per month, you can become the next Generation-IoT and on your way to be one of the rare talents in the job market today!
The Startup Plan is perfect for Freelancers or SMEs or Startups to provide IoT solution for a medium size project up to 150 devices. In fact, they can also create multiple projects or applications but limited to the total number of 150 devices.
The Business Plan is great for developing big commercial IoT project. It can support up to 300 devices for many smart applications. However, if a company requires connecting thousands of devices, they may contact/email their customized requirements to sales@favoriot.com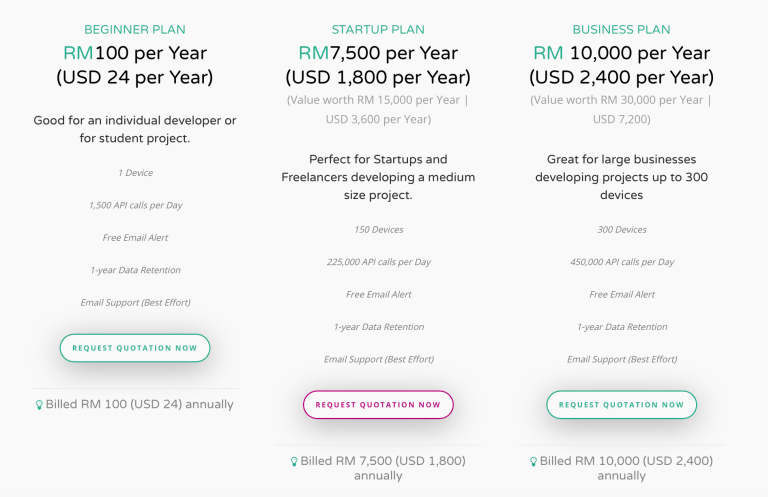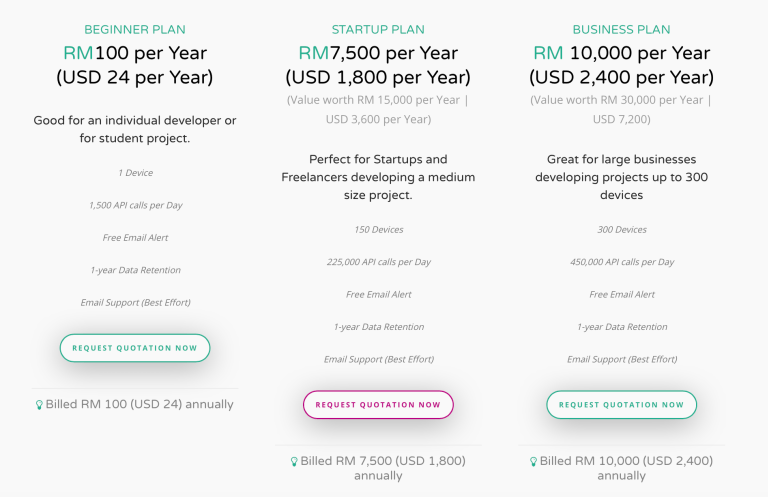 Tags: