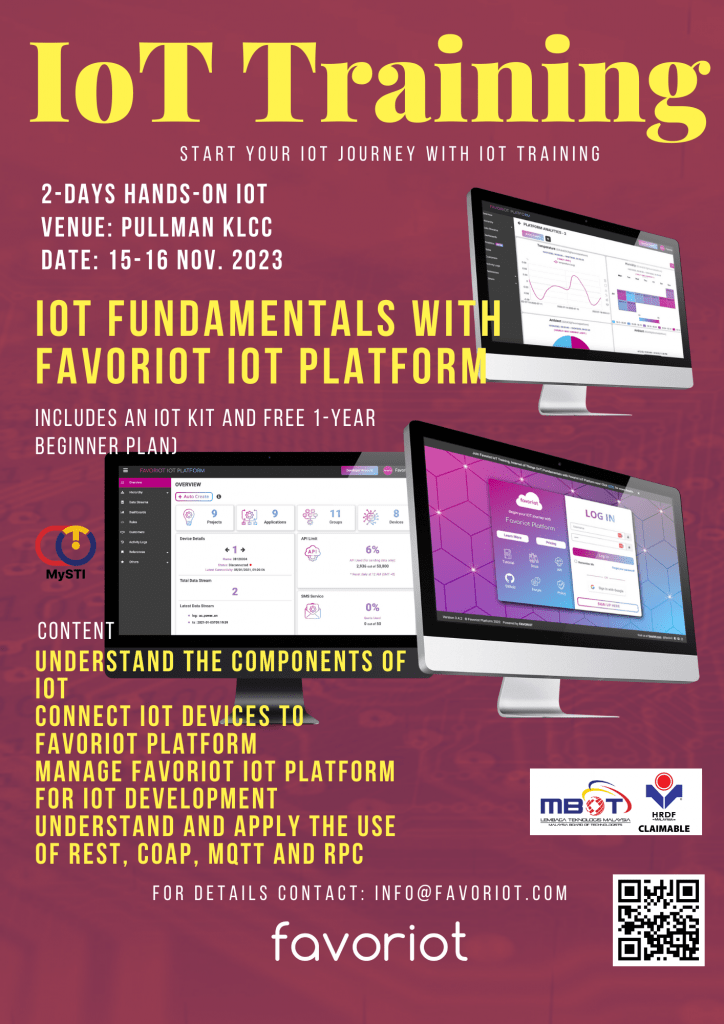 The world is in the throes of an IoT frenzy, and it's not just hype. We're witnessing the digital transformation of our era. Staying stagnant isn't an option; it's adapt or be left in the dust.
Join the Elite; Own the Revolution! We're rolling out an immersive two-day masterclass to vault you straight into the IoT frontier. And the tool to get you there? The renowned Favoriot IoT platform — Malaysia's crowning technological achievement, validated by the distinguished MySTI logo. It's not just a tool; it's the gold standard in innovation.
Why Is the Buzz All About Favoriot?
It's simple. Favoriot, with its user-centric approach and top-tier capabilities, has been the catalyst for countless success stories. Our trainees are not just participants; they're the vanguard of the IoT movement, leading with innovation and unrivaled expertise.
Unpack Your Two-Day IoT Odyssey:
Day 1: Foundation First

Immerse in the vastness of IoT: Its essence, intricate components, and the challenges that shape it.
Unravel the expansive world of IoT devices.
Traverse the complexities of IoT communication.
Acquaint yourself intimately with the Favoriot platform's genius.

Day 2: Mastery in Motion

Get hands-on with the Arduino IDE: its ins, outs, and everything.
Architect, test, and master IoT programming and APIs.
Dive deep into the nitty-gritty of Favoriot's integration, understand data protocols, and become the mastermind behind compelling IoT dashboards.
Your Transformation Awaits… By the close of this masterclass, you won't be watching the IoT parade; you'll be leading it! With your newfound knowledge and skills, the Favoriot Platform will be your launchpad into the IoT stratosphere. Whether a newbie or a seasoned player, this is your exclusive pass into IoT's exhilarating realm.

Your Future is Calling. Will You Answer?

📅 Date: 15 – 16 Nov. 2023

📍 Venue: Pullman KLCC, Kuala Lumpur

🔥 WARNING: Seats are vanishing quickly. Reserve Yours Before It's Too Late! Register Now!

Tags: