What FAVORIOT Platform (IoT Middleware) Offers?
Developer Platform – IOT Application Enablement Platform (AEP)  meant to enable a developer to deploy an IOT application.
Dashboard – Chart analysis. Responsive web design for all screens. Simple graphs format.
Connectivity Protocols – Supports MQTT, REST API, and others
Advanced Data Processing – Real-time aggregated data streams to applications but also access to historical data for data aggregation and advanced queries
Event Processing – "Trigger-Condition-Action" model. Physical sensors and virtual sensors supported. Rules Engine to enable real-time action triggering
3rd Part Plugins – Social Media integration
Device Management – Managing devices based on users, projects, applications, and groups.
Future Proof – proof IOT solution. Continuation of IoT projects. Scalable vertically or horizontally.
Benefits of Using FAVORIOT Platform
Cloud-based platform (SaaS)
Reduces time to market from months to weeks
Reduces the cost and risk of application development
Can be easily tailored to multiple business applications and different market segments
Capable of handling millions of devices, data streams and scale elastically
Simple business rule creation process
Easily handling data ownership for sharing and monetizing
As the platform evolves, you get new features easily
FAVORIOT offered a very affordable pricing plan as shown below:
The Beginner Plan is very suitable for University students who have been assigned or chose IoT project as their Final Year Project. A single device such as Raspberry Pi or Arduino that collects from several connected sensors can stream to the IoT platform. A simple dashboard is provided to visualize the measurements. This plan is also suitable for an individual developer or hobbyist that would like to familiarize with IoT platform, conduct self-learning or participate in IoT Hackathons. At RM 8.33 (or less than USD 2.00) per month, you can become the next Generation-IoT and on your way to be one of the rare talents in the job market today!
The Startup Plan is perfect for Freelancers or SMEs or Startups to provide IoT solution for a medium size project up to 150 devices. In fact, they can also create multiple projects or applications but limited to the total number of 150 devices.
The Business Plan is great for developing big commercial IoT project. It can support up to 300 devices for many smart applications. However, if a company requires connecting thousands of devices, they may contact/email their customised requirements to sales@favoriot.com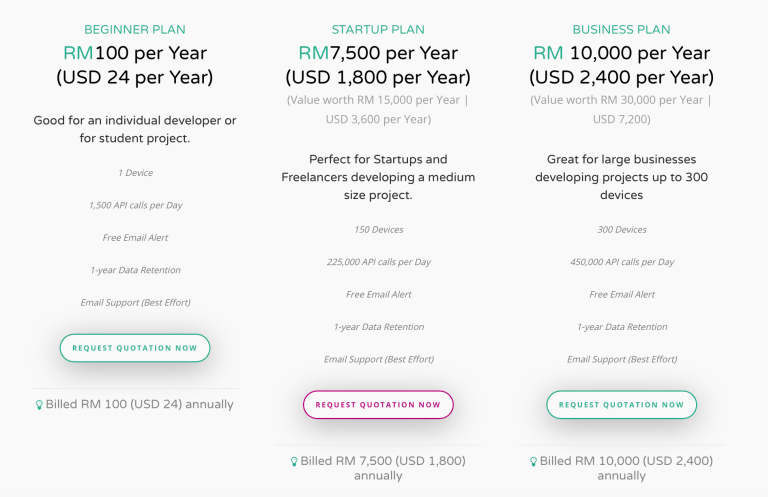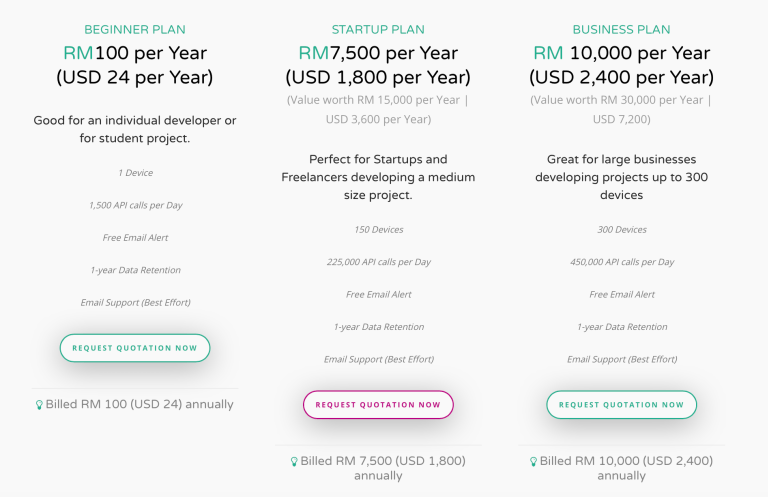 CLICK HERE to Subscribe/Request for Quotation.

Check out the COMPLETE Tutorial How to connect an Arduino to FAVORIOT Platform. You can also download a STEP-by-STEP Tutorial –  TUTORIAL – Cytron Uno with FAVORIOT Platform (56 downloads)

Tags: